---
Shop Risk-Free, 30-Day Money-Back Return Policy on All Sales (USA only, all other sales final)
Free Shipping (Ground, continental USA only)
DNCv2022 CNC Communications Software with Integrated NC Editor
Delivered electronically, no CDROM
Designed for Windows 10 / Windows 11
Made and supported in USA
Non-Perpetual 5-Years or life of PC/OS, whichever is longer
Support 1-Year
Updates/Transfers 1-Year
Buy Now $389.00
Software licensing and purchase terms agreed to by purchaser.
Please contact support@dncsoftware.com for other pricing options and multiple-seat discounts.
Purchase is for use on single computer
Separate licenses must be purchased to use on multiple computers
License key is required to use software; key is not usually provided until after software installation
Purchaser agrees to the submission of computer ID data required to generate license key
Hardware dongle devices are not used
Software is not available on CD-ROM or any other physical media, electronic delivery only
Purchase is for license to use software only, ownership of software and source code is not included
License and software cannot be resold and is not transferable to a new owner
Software is provided "As-Is", no warranty, user assumes all risk of using software
User must accept EULA to install software
Digital Download Link, Paid Version
Digital Download Link, Free Trial Version
Help: support@dncsoftware.com
USB to RS232 Adapter Keyspan 19HS Texas Instruments Chipset with DB25 Null Cable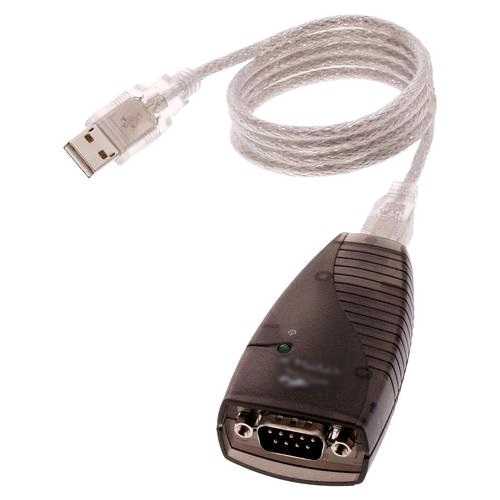 For computers without built-in serial port or to quickly add port
Supports COM1 thru COM16
Brand name, highest quality circuitry and drivers, better than cheap generic
Specially selected to work with CNC controls
Driver signed and Microsoft Certified for Microsoft Windows
CNC compatible send/receive signal voltage levels
Enough power to drive long cable
Shielded and grounded
Works with all CNC controls, including Haas
Buy Now $89.00
Avoid allowing device to become unplugged from USB port while computer is using it, do not connect with a hub.
Privacy Disclaimers
All information submitted to dncsoftware.com is used only to fulfill requested service
No information is used for unsolicited sales or shared with third parties except payment processors
Online purchases are processed by Square, see squareup.com for their privacy policies
Credit card numbers are not stored on any dncsoftware.com server
Purchaser agrees to the submission of computer ID data required to generate license keys
Purchaser is advised that unless blocked, DNC 2022 generates Internet traffic between itself and remote servers
General Disclaimers
Haas CNC, Haas Automation, Haas are trademarks of Haas Automation, Inc
Microsoft, Windows, are trademarks of Microsoft
All other trademarks cited on this website are the property of their respective owners
Sihler Engineering / dncsoftware.com develops its own software and is not a software reseller
DNC 2022 software is sold from this website only
Direct sales only, resellers are not used
Requests to become a reseller are ignored
Sihler Engineering / dncsoftware.com is in no way affiliated with any other company or entity
Sihler Engineering / dncsoftware.com
234 Lightwood Street
Camarillo California 93012
Phone / Text: (805) 419-0226
Email:
support@dncsoftware.com

© 2023 Sihler Engineering